Storage currently available includes:-
Bulk tanks from 20,000 to 56,000 litres, many with heating jackets and either lined or in stainless steel.
Dedicated stainless steel bulk tanks for foodstuffs storage.
Internal racked general chemicals storage for 3,000 pallets.
Food ingredient storage for 900 pallets.
External storage for low budget use.
Forklift trucks with lifting capacities ranging from 1.6 to 2.5 tonnes with masts from 'container spec.' to 9.5 metres. Container ramps for import/export.
Heated storage
120 pallets/IBCs up to 40c plus
6 pallets/IBCs to 80c
Even with the above extensive facilities we are always willing to discuss the installation of additional storage to meet customers individual needs.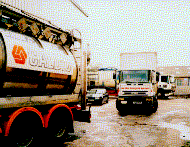 Just like buses
None for an hour then 3 arrive at once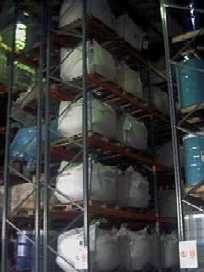 Area 100 has been converted to Narrow Aisle racking to increase internal storage capacity